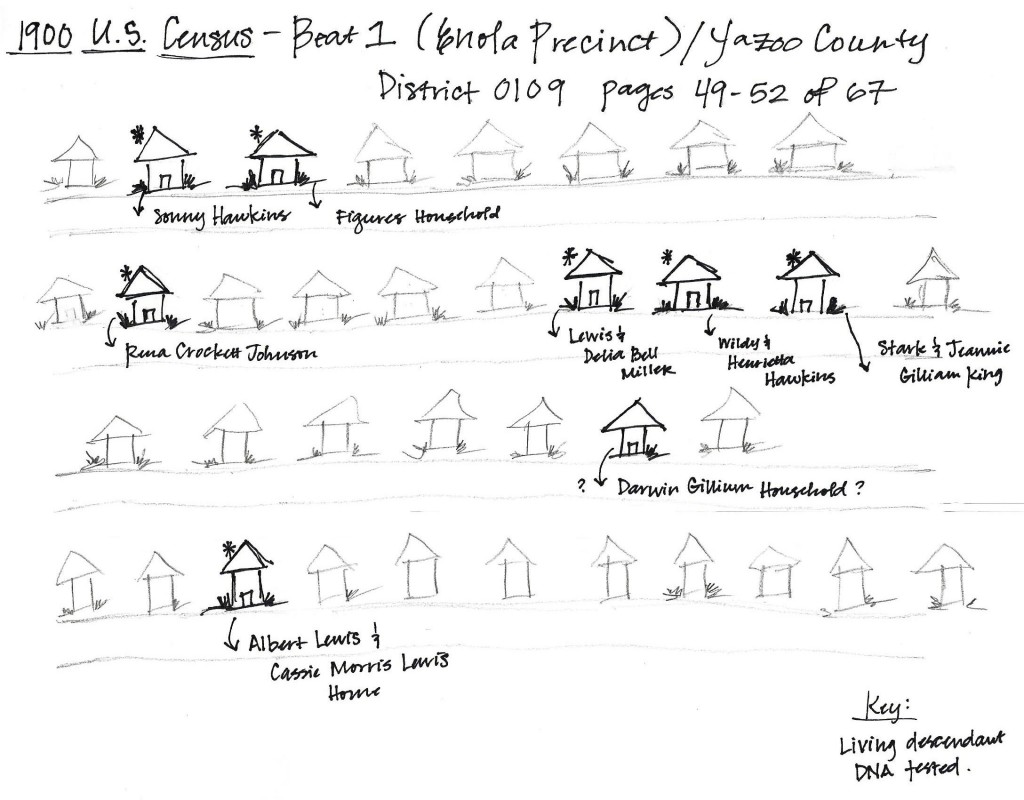 Psst… Want to hear a secret? I guarantee this is going to rock your socks off when I reveal it you. Ready? Wait, no. Okay, here it goes. Way back when – a very long time ago our ancestors lived in very close proximity to their family. Say what?! YES! Now most of you already knew that or suspected as much for immediate family members and I know this isn't true for everyone, but for the most part families stayed within arms reach more times than not. This little secret even applies for extended family members who could often be found nearby as well. This is something I myself continue to rediscover as I return to old census records I'd sworn I reviewed with a fine tooth comb. However, it is actually my ongoing efforts and waiting for new DNA matches (who are very slowly appearing) that is causing to re-review the records once more.
Because I enjoy sketching (it helps me to retain information better) I decided to draw out a map of the areas my 2x great grandparents, Stark King and Jeannie Gilliam King were residing in 1900 and 1910 to reflect this phenomenon of families living close by one another. These map sketches of mine are strictly based off of my imagination and are not drawn to scale or with any land surveys, so entertain me if you will.
Let me begin with the 1900 Census. Stark and Jeannie were living in the Enola area of Beat 1. I'm told Enola was once a plantation and in imagining a plantation I drew rows of houses to reflect data from four consecutive pages. In this case that would be pages 49-52 out of 67 pages from this enumeration district. Anyhow, back to Stark and Jeannie. At the time of enumeration they had in their household four children; Brucie, John, Riley and Miranda King. My great grandmother, Louise King, would be born a few months later that year. For the past decade all of the other names on the page they are listed and even a few pages forward and backwards were quite insignificant. The only exception being the Darwin Gilliam fellow who I suspect a sibling relationship to my Jeannie Gilliam, but have nothing to prove such.
Now behold the power behind DNA testing for the purposes of Ancestry or genetic genealogy. On my 1900 map I sketched all the households listed in pencil and then I went back on made bold the households where a DNA tested descendant or living representative has appeared within my list of matches. All of these particular matches have appeared within my matches at Ancestry.com. Since I'm dealing with a number of families this may become a little messy, so I will do my best to keep it tidy by assigning a letter to house in bold with a their DNA match. Here goes:
Match A: Represents a descendant(s) from the line of Sonny Hawkins
Match B: Represents a descendant(s) from the lines of Lewis & Delia Bell Miller
Match C: Represents a descendant(s) from the lines of Stark and Jeannie Gilliam King
Match D: Represents a descendant from the lines of both Rena Crockett Johnson and Albert and Cassie Ann Morris Lewis

As I previously mentioned, the map sketch above illustrates all the households from pages 49-52 which have also been included below. Prior to discovering my DNA matches who descend from the lines of the homes in bold and are also showing up as 4th-6th cousins, the surnames Hawkins, Miller, Bell, Lewis and so forth meant zilch to me. Now I am being forced to consider the possibilities of how we may be related and from which family line in particular. In a previous post I described some of the dilemmas faced with moving beyond my ancestors Stark King and Jeannie Gilliam.
Focusing on Jeannie first, not long ago I had no idea who her parents were. I know she was born around 1872, so my best guess is that her mother and father were likely born about 20 years prior in say 1852. Upon collaborating with my genetic matches, sharing family trees, old family photos and oral history along with whatever I can already see on Census records I am able to inch my way closer to a likely candidate for Jeannie' parents. Right now I am looking very closely at Match A who comes from Sonny Hawkins.
Sonny Hawkins was born in 1852 according to this 1900 Census record which is right in line with the appropriate age range for Jeannie's father. The Hawkins, from what I have seen in photos were of a darker complexion. I have only one photo of Mama Jeannie and she did not appear fair nor was she ever listed as a mulatto on any census record. Later on the 1910 Census when I find Sonny Hawkins near Stark and Jeannie I see it ha him listed as being married two times. The 1910 record tells us who his current wife is, but who was the first wife and did they have children? If so, could they be Jeannie's up link? Very possibly so, but keep in mind this is only a small part of analyzing the data. To get a more complete assessment one has to be able to view the shared segments of DNA and if possible successfully triangulate amongst other matches to secure the deal. Gedmatch.com offers the ability for one to do such in addition to some of the other DNA for genetic genealogy sites like 23andme and Family Tree DNA. Anyhow, Sonny seems like a legit candidate for a father, but it could also be someone within Sonny's family. A brother maybe? Lucky for me DNA Match A has uploaded her data to Gedmatch and recently had her mother tested as well, so I will present the more technical findings in an upcoming blog. But what about Jeannie's mother then?
DNA Match D might be able to offer some clues. Although DNA Match D has genetic ties to the Crockett/Johnson household and the Lewis/Morris household I have a strong inclination towards Albert Lewis in particular. Here's why. My maternal uncle who tested at Family Tree DNA is a match with two sisters of European background. They match him within the 4th-6th cousin range and what is most interesting for them is that within their family tree is a marriage between a Gilliam and a Lewis ancestor with ties to Kentucky. This is a HUGE hint that would have never been revealed had I not tested my maternal uncle. With that little bit of information I now have a reason to believe that Match D's Albert Lewis ancestor who is of the same age as my Jeannie is likely her first cousin. I know now that when considering candidates for Jeannie's mother to keep both Lewis and Gilliam in mind. I also know now to get more creative in imagining how these families came to obtain their surnames. Seeing how Jeannie and Albert's folks were ALL likely enslaved people I now have to imagine how their parents may have been exchanged, sold or gifted around Lewis and Gilliam families. My goodness, I hope I haven't lost you!
No final answers on Jeannie yet, but I'm getting warmer. And that's a good thing.
The only match left to note is DNA Match B. Match B shifts the focus over to my ancestor, my 2x great grandfather, Stark King, whom I believe to be genetically related to the Delia Bell. Working on this theory / connection over the last couple of weeks has given me enormous excitement and hope. Within my Ancestry DNA results I have two African American descendants of Lewis Miller and Delia Bell Miller. One genetic match comes from a daughter of Lewis and Delia and another comes from one of their sons.
It's a big deal getting matches that come from different lines within the same family set, so I'm thrilled to have made contact with these living representatives of Lewis and Delia. With their combined information on the family I was able to make sense of another genetic match within my results at Ancestry.com. Here's what happened Match B shared with me that oral history had it that Delia Bell was the daughter of the "slave owner". Upon hearing that I went back into my pool of matches at Ancestry to conduct a surname search for Bell in Yazoo County. To my surprise and merriment I found a Caucasian match that hit the search criteria right on the mark. After I scrutinized the Census records for a bit and the match of European origin's line of descent it connected and confirmed for me that the oral history regarding Delia's father was correct. The European match who is not included on the maps here had family that was residing very closely to Delia's family. In fact, that particular genetic match descends from the sister of Delia's father – Joseph Wilson Bell.
Now what that means for my African American matches from Match set B is that we have successfully confirmed oral history and can now go upward and onward in researching and expanding the Bell family lines as slavery is no longer an obstacle there. I however know that my most recent common ancestor between my family set and DNA Match B is likely Joseph Wilson Bell and Delia's mother Eliza "Lizzie" Walker or it may just be Joseph Wilson Bell, the overseer / slave master. In other words, I still have a ways to go in figuring out my exact familial connections. Based off of the little I know about my 2x great grandfather, Stark King, he would fit well in being related to Delia Bell. Complexion wise he was likely just as fair having been listed as a mulatto on the Census once. His mother is supposedly a woman named Nora, who was born about 1850. It is possible that Nora could have also been a daughter of Lizze and Joseph Wilson Bell as they are old enough to be her parents. My speculations could go on for days. Once more, the utilization of Gedmatch will play a huge role in assigning these distant relationships with confidence.
Perhaps, for now, I'm just left to wait some more until others join the DNA databases. In the meanwhile I can doodle and imagine what life was like in both 1900 and 1910 when my folks were obviously living quite close to their kinfolk. And with that I leave you with my sketch of a semi-imaginary Beat 5 in Warren County, Mississippi. On this map we have the households featured on page 10-13 of 27 within the enumeration district. My Stark and Jeannie have relocated across the county line along with Sonny Hawkins, Albert Lewis and wait — who is that Mary Gilliam woman? Could she be Jeannie's mama? Sure is old enough to be. Sigh.