If you have found your way to this blog and you have connections to the Fletcher family that once lived in Perquimans County, North Carolina I hope that you'll stick around because I'm pretty sure we're cousins. The only problem is I can't quite tell you how or who connects us, but I will do my best to pave the way. A good many DNA clues have lead me to this hypothesis and in order to explain I'm going to have to start from the beginning.
Who am I? Well, I'm Adrienne and I am the 4th great-granddaughter of Phillip Branch, who was born circa 1795 in Halifax, North Carolina. He parted his long life about 1891 in East Feliciana Parrish, Louisiana. I am connected to my 4th great-grandfather, Phillip Branch, through my maternal grandmother, Johnetta Jones Wilson. The information I have learned about her Branch ancestors did not come into my hands easily. In fact, I had zero knowledge of any Branch ancestors in my family up until about three years ago now. Johnetta was the daughter of a Willie Jones, who was said to have committed suicide when she was only a teenager. Because of this tragic event my grandmother never knew a whole lot about her father and subsequently her children didn't know their grandfather growing up either. Luckily, my grandmother remained in contact with two of her father's siblings – one aunt and one uncle. It would be their death certificates that would point me to my Branch family. But, that wasn't the only thing. No sooner than I had obtained the parent information for both my grandmother's aunt and uncle I noticed my Ancestry DNA results were revealing additional clues. My family members were all matching several DNA tested Branch descendants and they were all coming from Phillip Branch. Additional research on the name of my grandmother's grandmother, a Louisa Branch Jones, led me straight back to Phillip Branch. Paper and DNA providing the confirmation in this case.
Now here's the thing: Much of what I know about my ancestor Phillip Branch is inherited information from some of the long-time Branch family researchers I've connected with over the past few years. They have done an amazing job of locating our shared ancestor Phillip Branch in the 1857 probate record of his late owner and also in a text which describes the approximate date in which he was transported out of North Carolina and down into Mississippi with his owner. And of course there is an oral history that exists which suggests the parentage of Phillip.
Phillip Branch was a slave or enslaved person (whichever you prefer). He was owned by John Whitaker formally of Halifax, North Carolina and later of Wilkinson County, Mississippi. As the story passed down from the Branch family elders goes Phillip and his owner were half-brothers, making them both the sons of Eli Benton Whitaker. Knowing the shaky ways of oral history I set out to see if I could prove whether Phillip was in fact the son of Eli Benton Whitaker.
Turns out that something is amiss.
A couple months back I reached out to one of my 3rd cousins – a male with the last name Branch. I wanted to see if he'd be interested in taking a Y-67 DNA test from Family Tree DNA. As a male with an unbroken Y line that leads straight back to Phillip, his test results could easily provide a glimpse at the deep and more recent origins surrounding our ancestor Phillip Branch's ancestry. My Branch 3rd cousin agreed to test and his results are what have led me here to writing this blog at this very moment. I was surprised by what I found in his results to say the least. Family Tree DNA assigned to him the haplogroup N-M232 and noted that:
"Haplogroup N is distributed throughout Northern Eurasia and Siberia. It is the most common Y-chromosome type in Uralic speakers (Finns and Native Siberians). It is also found in Mongolia."
Additionally, at the 67 marker level he had only one match and at the 12 marker level he had four matches. All four matches are males with the surname Fletcher. Two of which have a clear cut genealogy back to the Fletcher family that once resided in Perquimans County, North Carolina.
Now if you'll excuse me I'd like to step away from my Branch cousin's Y-DNA results for a moment to switch to the autosomal results of one of my maternal aunts. Prior to my cousin's Y results, Ancestry DNA had been trying to suggest a kinship to the Fletcher family through their testing service. My aunt, D.W., was provided with a New Ancestor Discovery (NAD) for a Joshua Fletcher (1790-1857). New Ancestor Discoveries or NADs are hints that Ancestry DNA provides to people who match several descendants of the possible new ancestor to my family. My aunt matches 6 of the 21 members found in NAD hint – all of which are direct descendants of Joshua Fletcher. Now this meant absolutely nothing to me prior to having my cousin's Y-DNA results. I could do nothing with this hint before, but with the Y-DNA a few things are apparent now:
1. There is definitely a connection from my immediate family to this Fletcher family. And that connection more than likely exists just beyond my ancestor, Phillip Branch.
2. There is no way that Joshua Fletcher found in the NAD could be my direct ancestor. I know this because my ancestor Phillip Branch and Joshua Fletcher were very close in age which makes a father/son relationship very unlikely. This lets me know that this Joshua Fletcher found in the NAD is likely a close cousin to Phillip Branch or maybe a nephew or great nephew to Phillip's mystery Fletcher ancestor.
3. It is still going to take a lot more people showing up in the Y-DNA pool and autosomal DNA to make a sound prediction about who Phillip's father might be.
Eye-opening none the less! In mapping out the lineages of these various Fletcher DNA matches I am learning of where they went on to live outside of Perquimans. I have found that they spread out across North Carolina and South Carolina, but one area that pops up a lot is Marlboro County, South Carolina. The goal is to try to find the Fletcher family that would have been in close proximity to the Whitaker and related families that were in possession of my ancestor Phillip Branch prior to his leaving the state.
One last hunch before I proceed to action plans and this hunch takes a slightly different approach than the oral history I inherited. I am personally of the opinion that my ancestor Phillip Branch or his father was owned by Absalom Benton (1729-1795) before he willed him and the rest of his chattel property in his 1795 probate file. Absalom Benton is a paternal grandfather to Eli Benton Whitaker. He was Eli's paternal grandmother's father. See pedigree below:
If you recall the oral history stated that Eli Benton Whitaker was likely the father of Phillip Branch. However in this 1795 probate record for Absalom Benton we see that he is given a slave named "FIL." The age of this Fil is not noted which makes it hard to know whether this is my 4th great-grandfather or maybe even his father who I am looking at.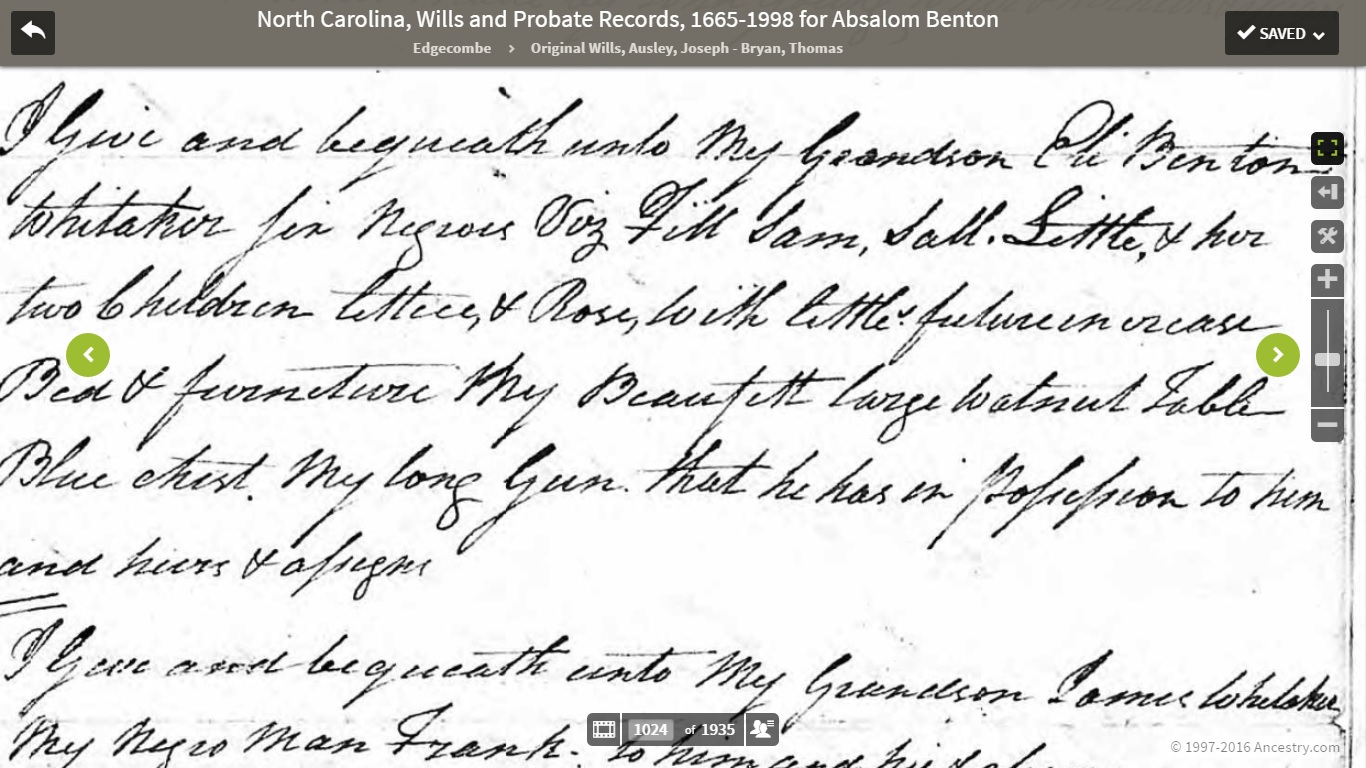 If it is the father of my Phillip Branch then I would guess that this Fil is the progeny of this mystery Fletcher ancestor. And should this prediction hold any truth it is possible that this mystery Fletcher ancestor is Joshua Fletcher of 1734 or one of his brothers – children of Ralph Fletcher (1703-1784) and wife Mary Guyer. But then the question remains: How did Absalom Benton come to hold in his possession a male slave with Y-DNA tracing back to the Fletcher family? Did he purchase this slave at one time? Was there some type of family connection between the Fletcher and Benton and/or related families? Lots of questions.
Action Plans:
So how do I overcome this massive brick wall in front of me? Well, this, I definitely cannot do alone. If there are any other male Fletcher descendants out there with roots in North Carolina I urge you to consider Y-DNA testing at Family Tree DNA. If you have already tested your Y-DNA on Family Tree DNA, but not your autosomal I suggest taking their Family Finder test. At the time of this writing Family Tree DNA is currently running a sale on their Family Finder tests for $69. I will continue to seek out additional male descendants from my ancestor Phillip Branch to test. The data set of individuals within the both the Y and autosomal results now is just not large enough. For those who have tested at Ancestry DNA – it's going to take a lot more than NADs and Circles to make sound connections. I am speaking to everyone who has tested on the Ancestry DNA site. The case I have shared above with Joshua Fletcher is a prime example of how a NAD can lead someone in the wrong direction. This is why segment data is needed. Ancestry has done a great disservice to their users by not offering this. Segment data can help to lead us all in the right direction of who our common ancestor may be. If you have tested at Ancestry and have not yet uploaded your data to Gedmatch.com I beg you to take a look. If you are already on Gedmatch and are a Fletcher descendants of Joshua or the earlier Ralph Fletcher of Perquimans Co., please reach out and let me know how I can find you on Gedmatch.