There have been a good many things happening in my life these days that would be worthy of blogging about on this blog and I hope to get caught up soon. I make no promises. Rearing the little ones takes up more time than anything, but it is a joy. In fact, I've decided to take on homeschooling them. They are only four and two years old and after much contemplation I'm pretty confident I can swing this home school thing during the early years. The beauty of it all is that I can have as much flexibility in their curriculum as I'd like. When I consider my personal strengths genealogy is pretty high on that list. Once I started brainstorming and imagining age-appropriate ways I may get my children (and others) energized about genealogy I came up with a pretty full list of ideas for older children, but was still in need of some hands-on-activities for the Pre-School crowd.
Now here is the part where I share with you a little secret gem on the internet that I've discovered and have fallen madly in love with: Growing Little Leaves. This website is chock full of resources for any parent, teacher or caregiver that would like to introduce children to the world of genealogy. I've only scratched the surface of some of the ideas found in the activities area and can tell you this much: my four year old daughter loves the activities as well. We've had the opportunity to do two of the activities here in our home and I'd like to highlight how they went for us.
My daughter had the most fun with this activity. She keeps asking when we will make her Play-Doh family again and again, so I know this was a real hit. I mean… Play-Doh! I had actually found and viewed this activity master-mined by Emily Kowalski Schroeder a few weeks prior to trying it out. I didn't have the site up at the time I decided to try it for myself, so I attempted to wing it from memory. The first step, I thought would be to create a simple pedigree on a long white sheet of paper for my daughter to have as a guide in building her Play-Doh family. (We did this activity close to bedtime, so it was a little rushed on my part.) After we went over all her grandparents and briefly discussed how each of them also has their own mother and father we broke out the Play-Doh.
I gave may daughter some basic guidelines about each generation being
a different color of Play-Doh, showed her how to roll her Play-Doh self into a nice round ball and then attach it to the stick. She took the lead from there. We talked about which color was whom while she rolled them in her hands and I explained what a generation was as she advanced backwards. My daughter has a better understanding of her maternal ancestry and grandparents since they are here stateside. She has not yet met her paternal grandparents (something we need to remedy soon) and despite being shown photos of them, their names don't stick as much for her. We stopped making Play-Doh balls at her grandparents because great-grands would have been a bit overwhelming in explaining. I did draw them on her white paper though.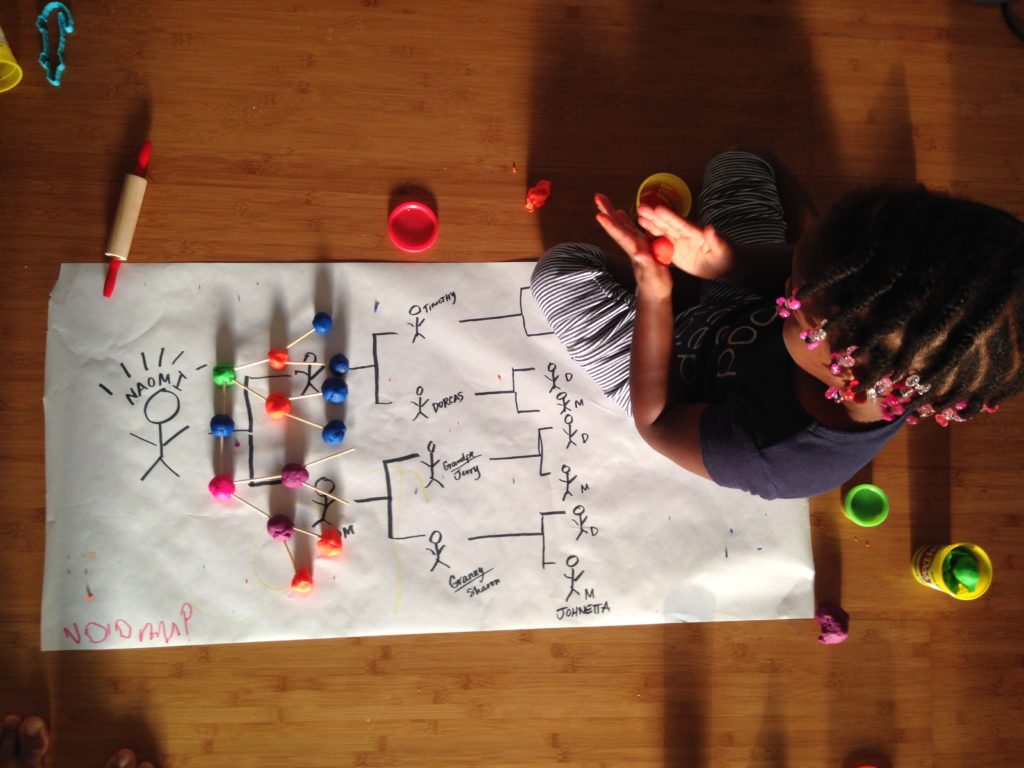 The next time I approach this activity I'd like to have more colors of Play-Doh. We had five this go-round, but I'd like to take it back one more generation to see how that goes. I may be underestimating her ability to soak it all in.
This was the second activity from the site I wanted to explore. I loved the concept of introducing children to fractions and math through genealogy. As someone who never developed a real interest in math as a child I'd like that experience to be different for my children. Time will tell what they latch on to anyhow.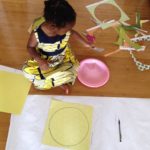 So the fractions. I had loads of scrapbook paper already available and I let my 4 year old start by selecting papers she wanted to represent herself, mom, dad, etc. Then I moved on to showing her how to trace circles using a plastic plate and pencil or marker. Lastly, I allowed her to cut her own circles, because using scissors is one of the highlights of her day and it would have bored her to tears to watch me cut out all the pieces on my own. Yes, this was labor intensive for a 4 year old and I thought she was going to get tired after the third circle, yet she happily completed 10 circles on her own. I was doing one of my own while she did hers and ended up making 8 whole sets should I decide to lead this activity with a larger group in the future.
Next I had her to cut one circle in half, folding it first like a taco and then cutting down the center. I had her repeat a second time with a different color circle and explained that one half of the taco from the first circle would be Daddy and the other half from the second taco would be Mommy. We repeated folding and cutting the circles using a combination of food examples in conjunction with all the family tree parts. So for the grandparents she folded four different circles into four equal parts kind of like a pizza with four slices. This was so silly and fun to her.
Finally! Once all the folding and cutting was complete it was time to put her family tree fractions into practice. I told her what she had just created was a puzzle of herself. Starting with the big round circle as her whole self, we moved onto the half circle pieces. I explained she is made up of half of Mommy's DNA and half of Daddy's DNA. I continued explaining using food as examples in regards to what DNA was. I asked her to think about what was inside of a taco and to think to two different tacos, basically creating the DNA of a taco. Then I transitioned taco talk back to the DNA of people talk. I'm sure you all get where I'm going with this and she literally ate all of this information up.
Overall I'd say she enjoyed the Play-Doh activity a bit more than the fractions, but now that I've laminated my 8 sets of family tree fractions and hers we'll be going back over this activity more times to come. It's funny to see how much she is processing just from these two activities alone. Now she'll exclaim while giggling, "Mommy, it is crazy that my Grandma and Grandpa are your Mommy and Daddy!"
I agree. I totally agree.